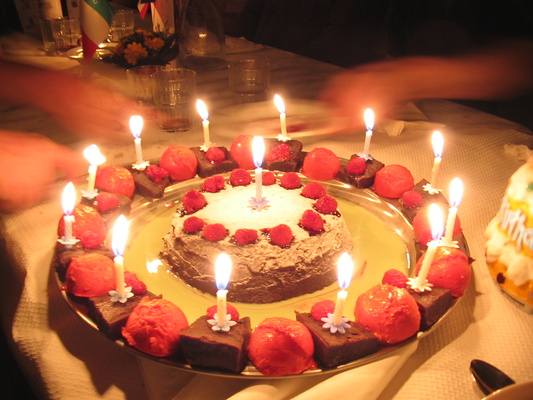 Today is my big sister's 23rd birthday! If you see her, tell her that she is super awesome. And I'm so proud of her for getting a big kid job with a 401k plan, and moving to Boston this coming weekend!! Whoooo!!
So over the weekend I relaxed, lots, which was fantastically wonderful. It was a quiet(er) time because the twins, Sido, and Sophie went to Paris on Saturday for a giant 18th birthday party of a cousin (we're talking serious Parisian galla here) and they didn't come home until Sunday, though the grandmother and her sister of Phillipe were here...kind of confusing, but let's just say, the 16 year old twins were gone, thus, quiet.
Saturday was a special day at the opera house in Tours called "les portes ouvertes" (open doors) which meant all day there were tours and rehearsals that anyone could sit in on. Sadly I got there after all the backstage tours were over, but I got to see them rehearse 2 scenes from the opera "Armida" written by Hayden, as well as listen in on a mini Q and A session. The show is going up (and coming down) next weekend. Luckily there is a performance next Tuesday (I got my ticket today!!!) night because the Bucknell group is going to Normandie this weekend.
The interior of the building is absolutely beautiful - I'm fairly certain the architecture and all the decor was designed by a summer (Mom: it's all pastel pinks, blues and lavenders with gold with soft but intricate flowers carved out of a white stone...maybe?) but I'll let you all in on that a bit more after seeing the performance and bringing my camera this time! Both the sopranos have incredible voices - I wish I could be seeing it twice (we have a special international student culture card so our tickets were only 9 euro for 28 euro seats!)
Picture is thanks to our dear Mr. Wikipedia - it is, of course the facade of the opera house in Tours
Over this week I'm planning on writing a sciencey biology post to help me study for my bio exam, plus then all you awesome people can find out lots of information. Like how quite a few cheeses are not vegetarian. Yup, you killed a baby cow to eat that.
:)